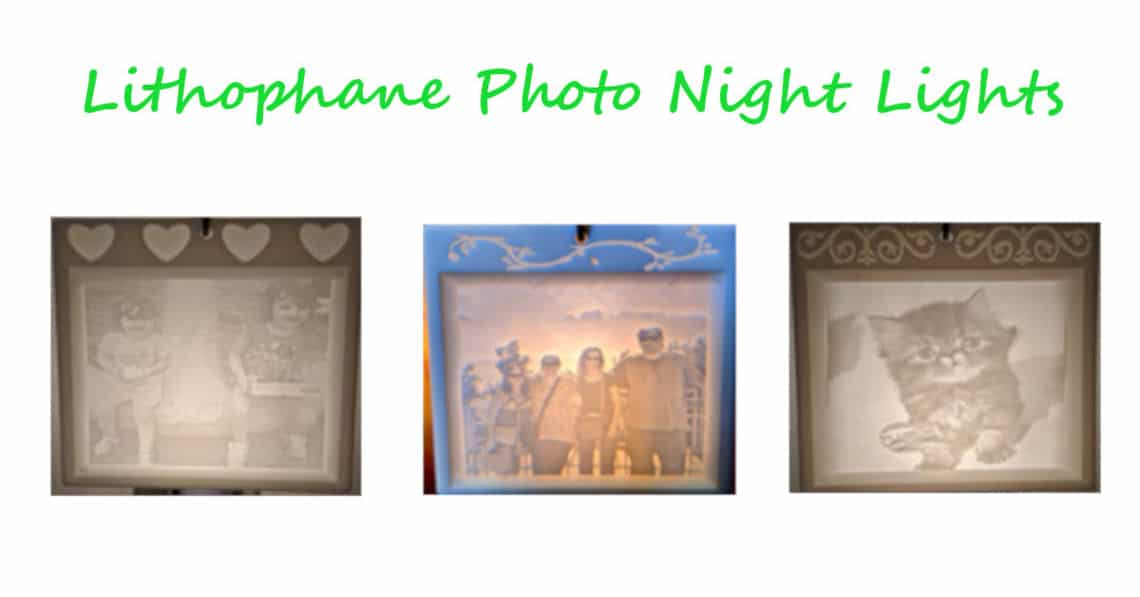 We are happy to introduce our newly redesigned Lithophane Nightlights. If your not familiar with a LIthophane is an ancient art of etched or molded artwork in very thin translucent material that can only be seen clearly when back lit with a light source. It is a design or scene in intaglio (an Italian form of print making) that appears "en grisaille" (in gray) tones. We use this technique to create a 3D Printed image from a customers photo.
This is our third generation of Lithophane Nighlights. We believe in constantly improving our products and that is no exception here. We started by creating Lithophanes using a Prusa i3 1.5 rework printer using white PLA filament. For version 1 of our nightlights we created clips that attached to a plugin night light, the lithophane (the print with the image on it) then sat on top of this clip. The quality of the print was good but for images with a lot of detail the Prusa i3 1.5 could not provide the amount of detail we really wanted. Further the clips worked well but tended to wear down after a while and the lithophnes were not sitting perfectly square after a long time of use. We needed something better.
For version 2 we modified our Lithphones to hang in front of the night light rather than clipping from the bottom. This provided a classier look and the lithophane sat much more stable on the nightlight. We use a thick wire that attaches to the back of the nightlight using a specially designed clip that we created and print in house. In addition we started printing the Lithophanes using our Form Labs Form 2 printer using a white acrylic resin. This printer has much higher resolution capability than is possible using an FFF style 3D Printer. This generation of night light was of higher quality and gave us the capability of printing photos with more people and much more detail. Be were were not done. We just weren't happy with the frame. The picture looks great but the frame around the picture needed something else.
That brings us to our latest. To start with we extended the top part of the frame over the image slightly giving us some space to work with. Then we used our own pictures for the Scroll and Vine frames to trace out nice new patterns for the top and used Blender to create an inward extrusion of those patterns. Likewise making the heart pattern was very simple using Blender and also extruded inward. Extruding inward allows those patterns to light up like the images. We have also beveled the edges all around the standard frames and modified our process for embedding the image to make the entire process more efficient.
We are happy with end result and have now started to market these products across all of our advertising mediums. We will be adding more patterns as time goes on and we have additional plans to add new types of Lithophane products like Lithophane Cubes and Rotating Cylinders. We hope you love the new ones as much as we do!