Welcome to the world of Lenticular Printing and how we can apply this technology to your photos or artwork.
Lenticular printing is a technology in which lenticular lenses are used to produce printed images with an illusion of depth, or the ability to change or move as the image is viewed from different angles.¹ This technology is also used for 3D displays.
 This wikipedia description for lenticular printing describes the basic types of lenticular prints. They can be broken out into three types; Flip (or transforming) lenticulars, animated lenticulars (motion), and 3D (stereoscopic) lenticulars.
Flip Lenticular, aka transforming lenticulars,  transitions from one image to another as you walk by or tilt the picture. They are a great way to display 2 or more of your favorite photos, such as before and after images.  For instance, transition from a young person to an old one. They are a great way to get creative!
Animated Lenticulars, aka motion lenticulars, will move through a sequence of shots that have minor changes between each frame. This gives the effect of an old time motion picture where the image moves as you walk by.
3D Lenticulars, aka stereoscopic lenticular, gives your image a 3D effect. This effect is a difficult trick to pull off. But it can create an amazing depth effect that brings an old photo back to life.
When did lenticular technology begin?
Lenticular Technology is very cool. We'll start there. The basics date back to the 16th century. They could not make a lenticular picture as we know it today. The idea of an image that changes when viewed from different angles was known as "tabula scalata" or "turning pictures". They were made by dividing 2 images into strips and viewing them through a slotted barrier. As a result, the picture would appear to change as a person walked by, creating a primitive type of flip picture.
The technology to create a lenticular picture was available by the late 19th and early 20th century. The first commercial lenticular products were patented and marketed in 1906 as "Puzzle Post Card" or "Photochange Post Card". These used an early version of a lenticular lens. Technology for lenticular lenses progressed and were then capable of creating a 3D effect. 3D effect gives the lenticular picture the illusion of depth, rather than a 'flip' from one image to another. Applications for this technology would soon range from simple marketing materials to aiding with training materials for bomb sites in WWII. 
The technology has improved significantly with new effects. Such as, Morph, a type of flip where one object "morphs" into another. And, Zoom, which is where an object appears to get bigger as you walk by or tilt. Effects like 3D and Flip can be combined to create flipping images that also have a 3D effect to them. 
Cracker Jacks and Lenticular Printing
One of the most famous uses for lenticular flip technology was for prizes in Cracker Jack boxes. Known as "tilt cards" many people still remember them fondly as that prize at the end of a delicious box of cracker jacks. These fun little prizes are probably the most widely remembered and beloved lenticular products ever produced.
How Does Lenticular Technology Work?
Lenticular technology requires an interlaced image and set of lenticular lenses that are appropriate for desired effect. Lenticular lenses are shaped in a way that either exposes or hides the interlaced frame underneath them. If viewed up close they are shaped like a convex lens. Think of the shape of eyeglass lenses as a visual (see figure 1 below). The precise shape of the lenses vary depending on the effect desired, 3D, animated, or flip. 
The lenticular lens is where most of the magic for this technology occurs. The lens diffracts the light for Flip Lenticulars in such a way that the viewer will only see one set of interlaced frames, depending on what angle they are viewing from. Lenticular lenses for 3D printing are shallower with a smaller viewing angle. The interlaced image contains the one image from the left eye perspective and one from the right eye perspective. A 3D lenticular sheet then presents a slightly different image to each eye. This is what creates the 3D effect and illusion of depth. 
Most often lenticular lenses are lined up with the interlaced image by hand. The lenticular lens is then carefully adhered to the interlaced photo. It takes a steady hand and eye to laminate a lenticular picture properly. An interlaced image can be printed directly onto a lenticular lens using a UV Flatbed or Offset printer.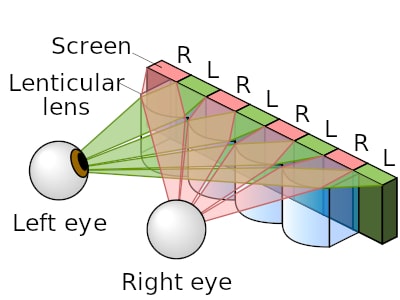 Figure 1. An example of how a viewer's eyes see the interlaced image through a lenticular lens ²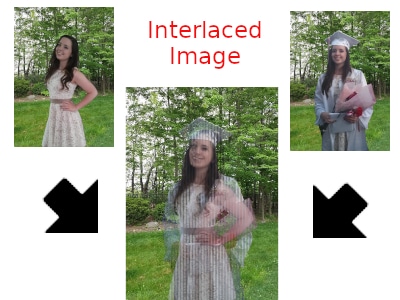 Figure 2. Above you can see an interlaced image. The 2 images at the top are what is used to create the interlaced image. The interlaced image is then printed and the lenticular sheet applied. ³
Ready to take your photos or artwork to the next level?
Let us help you! We will customize your Lenticular Picture from your photo(s) or artwork. 3DReactions offers Flip, Animation, 3D Effect, and Morph lenticular pictures in a wide range of sizes. Reduced pricing is available for duplicates and bulk orders. Please reach out to us at 3dreactions@jodaent.com if you have questions about your pictures. We'll let you know if they will work and can make recommendations. Check out a few samples below and even more on the lenticular product pages.
Click the learn more button to see more information about all of our lenticular products 
Samples of our custom lenticular pictures